The below prices are the rack prices for one chalet for one week. The online price may deviate from this (mostly for promotions :-). There is a 3 days minimum rental. Bed linen and/or towels are available for a charge upon request at 10 eur / pers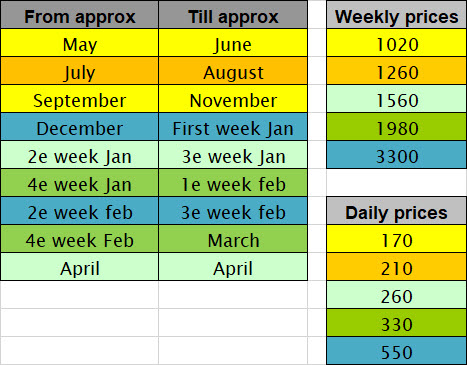 When making a booking you agree with the contract terms and rules.
Les Jumelles rental contract
A 100 Euro handling fee will be charged to prepare the chalet, make the contract, do the handover of the keys and do a final check.
The chalets needs to be left clean when leaving. (broom cleaned, garbage removed and dishes done) A 5% reimbursment is offered when you leave the chalet in a perfect state. (not valid when having a discount)
There is a limited parking space, so only 2 cars/chalet can park on the premise.
Information for your arrival